Guidance of processing test in the laboratory of the experimental building (we also support remote tests)
 Introducing equipment such as Bead mills and Rotary filters requires experiments to confirm performance and evaluation of prototypes. To meet the needs of our customers, the experimental building is equipped with 7 laboratories, which handle more than 100 experiments annually.
 We not only provide a place for experiments, but also provide technical support and consulting, such as equipment selection and processing condition proposals by our R & D staff.
We also support remote testing and prototype manufacturing and rental (rental is only in Japan) using a large 10ℓ class bead mill.
Compatible processing and experimental machines
 ①Slurry processing: grinding, dispersion, emulsification, mixing, kneading, filtration (nano-micron)
 ②Powder mixing (medicines, foods, health foods, chemicals)
 ③Dehydration treatment (particles, crystals, food, sludge, etc.)
 We also correspond to requests regarding slurry processing.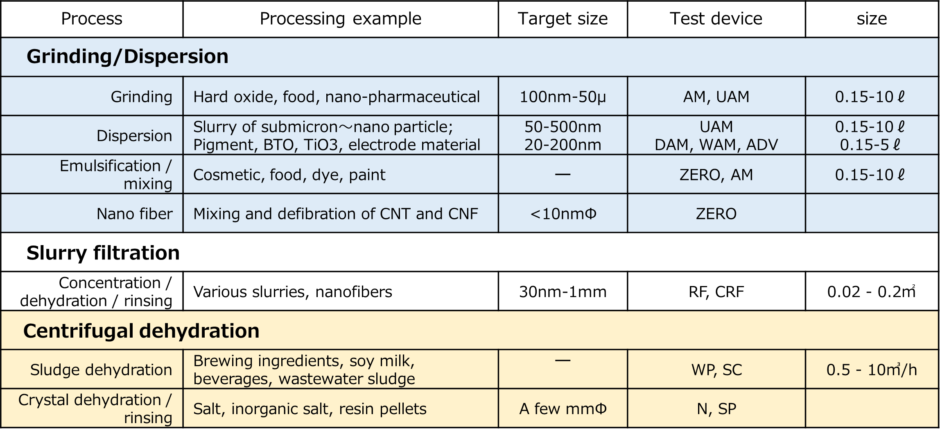 Outline of the laboratory and experimental scenery

<Measuring equipment / laboratory equipment>
 For various experiments, a draft chamber (fume hood) for solvent experiments, a constant temperature bath, an ignition furnace (weight loss measurement), etc. are also available.
 Measuring instrument: Particle size analyzer (3 units: 3 nm to 3 mm), viscometer, conductivity meter, centrifugal settler, chromaticity meter (powder mixing evaluation), etc.
 In addition, we also support electron microscopes (SEM / TEM) and specific surface area (BET).
Flow until test implementation
If you have any requests for experiments, please contact our international sales department.
If it is difficult to witness the experiment, we also offer online support using remote software such as Microsoft Teams.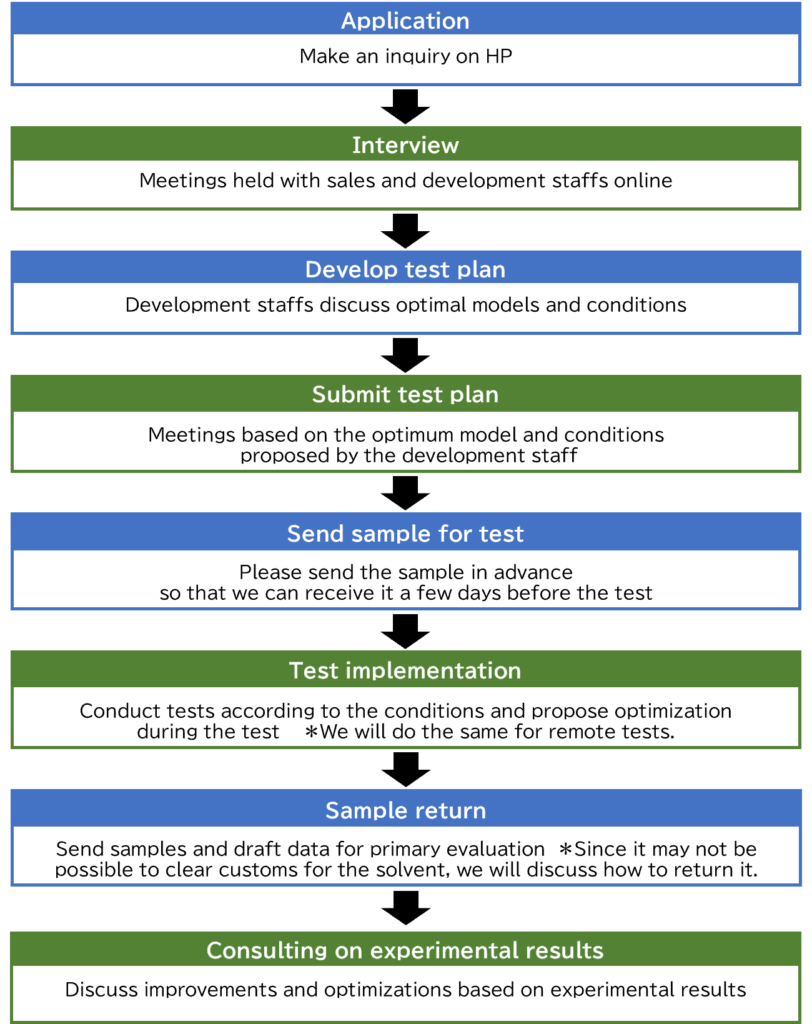 Information about the experimental building
HIROSHIMA METAL & MACHINERY CO., LTD. CHEMTECH DIVISION
1-2-43 Hiroshiratake, Kure-shi, Hiroshima 737-0144, Japan Map»
(Approximately 1 hour after transferring to the Kure Line at JR Hiroshima Station, where Bullet train stops. 10 minutes walk from Hiro Station)