GrindingApex Mill / AM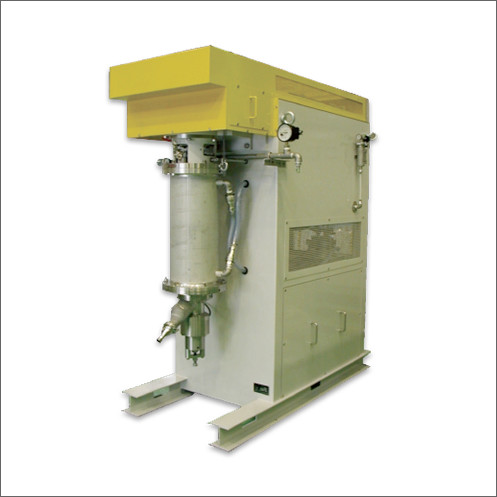 Apex Mill is a vertical-type bead mill, which efficiently performs slurry processing of grinding fine particles, submicron to microns in size.
Overview
Apex Mill is a bead mill consisting of a vertically set stator, which is basically a cylindrical vessel with a cooling jacket, and an agitating rotor. The mill has a slit type bead separator at the bottom of the stator. This mill is operated with relatively large beads, size of 0.3 to 5 mm. Apex Mill has a large milling capacity per unit volume, since the rotor with agitating pins forms a steep velocity gradient of beads and its volume available for milling is designed to be maximized. Thus, this bead mill preforms quite high grinding speed.
The bead separator, "Cone-Separator", is a cone shaped plug and forms a narrow slot gap at the outlet of slurry. Width of the slot gap is controlled according to change in detected inner pressure, which relates to state of slot clogging. When the inner pressure increases, the gap automatically becomes wider for preventing slot clogging. Thus, the slot is not easily clogged even when using fine beads or when processing highly viscous slurry.
It is mainly used as a wet type media mill for grinding particles of sizes 2 to several hundred micrometers. Sizes of particles in finished slurry are 150nm to several micrometers. This mill is applicable to grinding and kneading of minerals, ceramic materials, abrasives, foodstuff and cosmetics, and also pulverizing pharmaceutical nano stuff.
Features
1.A wet type bead mill for grinding particles of sizes of microns to submicron in slurry!

This bead mill is capable of processing wide range of materials at a high grinding speed, since it has strong agitating force and proper bead filling condition. In addition, since the applicable range of bead size is wide (0.3 to 5mm), the optimum bead diameters fitting a variety of processing purposes are adoptable in this mill.

2.Apex Mill is applicable to grinding particles in highly viscous slurry (max. 30,000mPa s)!

The bead separator of this model is a slot type with a gap width control system, which gives automatic adjustment of the slot gap to prevent slot clogging. The slot clogging, therefore, less likely occurs even with highly viscous slurry. In addition, as the slurry flow in the mill is a down-flow, beads are compacted in the main processing area near the bottom, resulting in good bead consolidation even in slurry as viscous as 30,000 mPa s. Thus, this mill is capable of processing condensed or highly viscous slurries such as food paste and paint.

3.Easy maintenance, and easy recovery of residual slurry!

It is easy to assemble and disassemble when the mill is maintained, since Apex Mill is a vertical-type bead mill and simply designed. Cone Separator functions also as a plug that stops slurry flow-out when processing of slurry ends. Taking advantage of the vertical mill design and the function of Cone Separator, the residual slurry in the mill is easily recovered by just sliding Cone Separator.

4.Operational conditions for less contamination from bead wear are materialized in Apex Mill!

Direction of the slurry flow in Apex Mill is same as that of gravity, so that the beads are stably compacted toward the bottom of the stator, where the milling action is most active. The mill, therefore, has high flexibility in agitating conditions. It is possible to conduct slurry processing with conditions in that contamination by bead fragments is largely reduced. It is because that milling treatment progresses even by low speed agitation, which provides minimized bead wearing. This condition is, in particular, ideal for grinding pharmaceutical API, which requires minimized contamination of the fine fragments. The minimum contamination of Zr and Y achieved in our experiments on milling pharmaceutical nanocrystals was 1 milligram/litter or less. Note Zr and Y are main components of the beads.

5.Cleanability is also considered!

Some versions of the model have improved cleanability for applications with high hygienic requirements for processing foodstuffs, cosmetics, and pharmaceuticals. Shapes of the corners and packings of joints are redesigned for easy cleaning.

Structure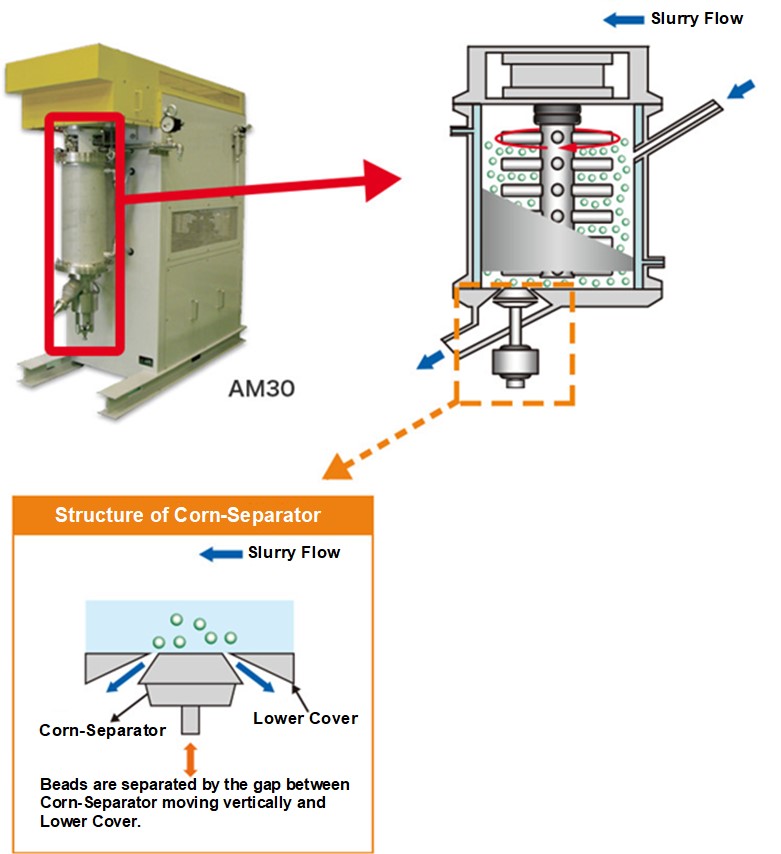 Operating condition
Applicable bead diameter

Φ0.3mm〜Φ5mm

Bead separator peripheral speed

5m/s〜12m/s
Application and final product examples
Electronic materials (such as titanium oxide, barium titanate),
pigment, metal (such as copper, silver, palladium), agrichemicals, foodstuff, etc.
Main specification of Apex Mill
Model
Inner Volume
(L)
Drive Motor
(kW)
Approx. Dimensions (m)
Approx.
Weight (kg)
Length
(m)
Width
(m)
Height
(m)
AM-1
1
2.2
0.75
0.40
1.05
200
AM-2
2
5.5
0.89
0.50
1.31
325
AM-5
5
7.5
1.05
0.65
1.55
400
AM-10
10
15
1.40
0.70
1.85
600
AM-30
30
55
2.00
0.85
2.30
2500
Lineup of Apex Mill Series
Products
Summary
Applicable beads size
Apex Mill
Bead mill for grinding
 Vertical type bead mill for grinding particles of micron to submicron.
φ0.3mm~φ5mm
Ultra Apex Mill
World`s first microbead mill
 Standard model of microbead mills for nano-grinding and nano-dispersion using microbeads, min. dia. 0.015mm
φ15μm~φ1mm
Dual Apex Mill
Biaxial microbead mill
 This microbead mill is sued for nano-dispersion especially with low crystal damage.
φ15μm~φ1mm
Wide Separator Apex Mill
Bead mill capable for high flow rate and with highly viscous slurry
 Microbead mill capable for dispersion nanoparticles at a high flow rate and/or with high viscosity.
φ15μm~φ0.3mm
Ultra Apex Mill Advance
Ultimate low damage nano disperser
 Microbead mill providing a proper condition for nano dispersion with super low crystal damage.
φ15μm~φ0.3mm