FiltrationRF tester(Laboratory Rotary Filter) / RFT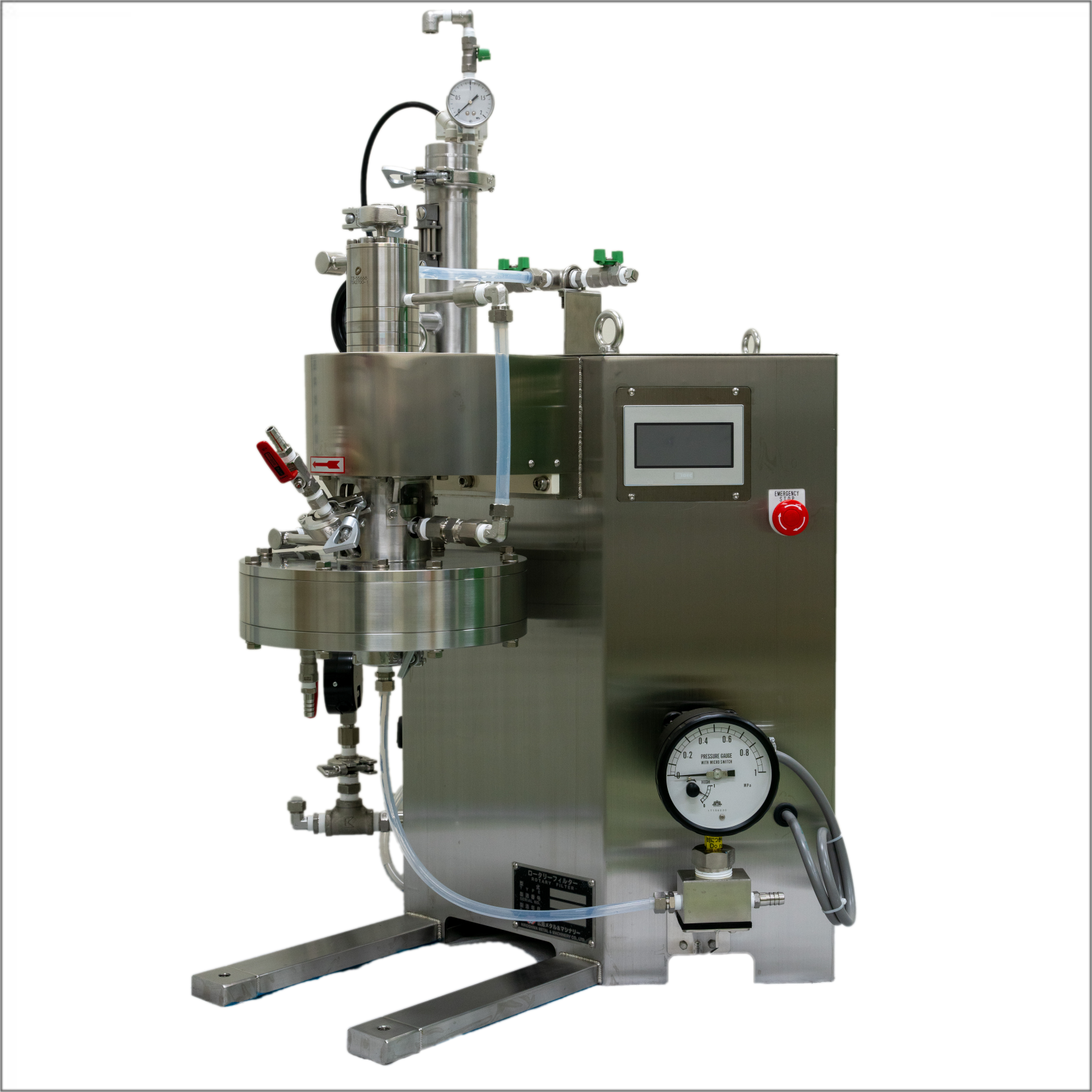 RF tester can process difficult-to-filter substances, shorten the processing time, and save labor in experiments. RF tester is a small filtration machine with a sealed structure and high filtration performance owing to the high-speed cross flow effect. Because of the sealed structure, it can be safely processed even with organic solvents.
 Applicable particle size: submicron to 100μm
 Applications: Rinsing, Solvent replacement, Dehydration, concentration, removal of impurities
Overview
 We support from basic experiments with a minimum of 1 liter to trial production of 10 liters. The RF tester can process in a shorter time than a suction filter, and stably filters difficult-to-filter slurries. In addition, there is no need for repetitive operations like batch type, and it can save labor in experimental work.
 With a compact desktop design that takes usability into consideration, it can be installed even in fume hood, and can be safely treated with dangerous and harmful acid / alkaline aqueous solutions and organic solvents.
Features
1. Small to medium amount filtration processing is possible!

Processing from a minimum of 1ℓ to 10ℓ is possible. We support various filtration processes such as rinsing, solvent replacement, dehydration, concentration, and removal of impurities, from processing expensive and difficult-to-obtain materials to prototype sample production.

2. Demonstrate high filtration performance with cross flow effect!

The surface flow velocity can be increased (* 1) compared to general tube-type cross flow, and high filtration performance can be obtained. It is possible to process even high-viscosity and difficult-to-filter slurry, and the processing time can be shortened compared to general filtration.
  ※1:Surface flow velocity
   Tube type  1~4m/s (Pump load is excessive and speeding up is difficult)
   RF     8~12m/s (high-speed rotation of the agitator is easy)

3. Difficult-to-process slurry is filtrated!

We have filters for fine particles (submicron), strong acids, strong alkalis, and organic solvents. We handle from difficult-to-filter slurries to dangerous and harmful slurries.

4. Desktop compact design! Can also be installed in a fume hood!

Desktop compact design is easy to use. It can be installed in a fume hood and can safely handle organic solvents and harmful substances. In addition, explosion-proof specifications are also available as an option.

5. Data can be collected for selecting large machines!

From the experimental data, information such as capacity estimation and size selection for large machines can be obtained.
Structure of the Rotary filter

Efficient cross flow is formed by rotating the agitating plate at high speed near the filter cloth.
Processing mode
Processing mode
Rinsing, concentration, dehydration, solvent replacement, removal of impurities
Applicable particle size
Submicron to 100μm
Solvent type
Water, organic solvent, strong acid, strong alkali
Filtration speed
〜 40 L/hr
Processing example

●Impurities (ion content) removal
 Electronic materials (MLCC, magnetic material)
 Cosmetic materials (titanium oxide, zinc oxide)
 Materials for secondary battery (Positive electrode material)
 Pigment (Printer toner, Color filter pigment)
●Concentration・Dehydration
 CNF
 Magnetic material
●Neutralization treatment of strong acid / strong alkali slurry
 Heat dissipation filler
 Graphene
 Metal recycling
Specification
| | |
| --- | --- |
| Model | RF tester (Laboratory Rotary filter) |
| Mechanism | Rotary high speed cross flow filtration |
| Filter media | Filter cloth, wire mesh |
| Filtration area | 0.02㎡ |
| Agitator shape | Star-shaped, diamond-shaped |
| Rotation speed | 920 〜 1,380 r/min-1 |
| Size | length 600㎜ × width 500㎜ × height 1,000㎜ |
| Electric motor | 1.5kw×200V |
| Weight | 100kg |
Line up
Model
Filtration Area(㎡)
Drive Motor(kW)
Approx. Dimensions (m)
Approx. Weight(kg)
Length
Width
Height
RF tester
0.02
1.5
0.70
0.70
0.75
100
RF-02
0.18
3.7
0.95
0.60
0.95
550
RF-1
1
5.5〜7.5
1.50
0.80
1.20
750
RF-2.5
2.5
11〜15
1.70
0.90
1.40
1200
RF-5
5
22〜30
2.00
1.30
1.60
1700
RF-10
10
37〜45
3.20
2.00
1.40
3900
RF-20
20
45〜55
3.50
2.30
1.95
5800
RF-30
30
55〜90
3.90
2.40
2.10
8000