FiltrationCRF tester (Laboratory Ceramic Rotary Filter) / CRFT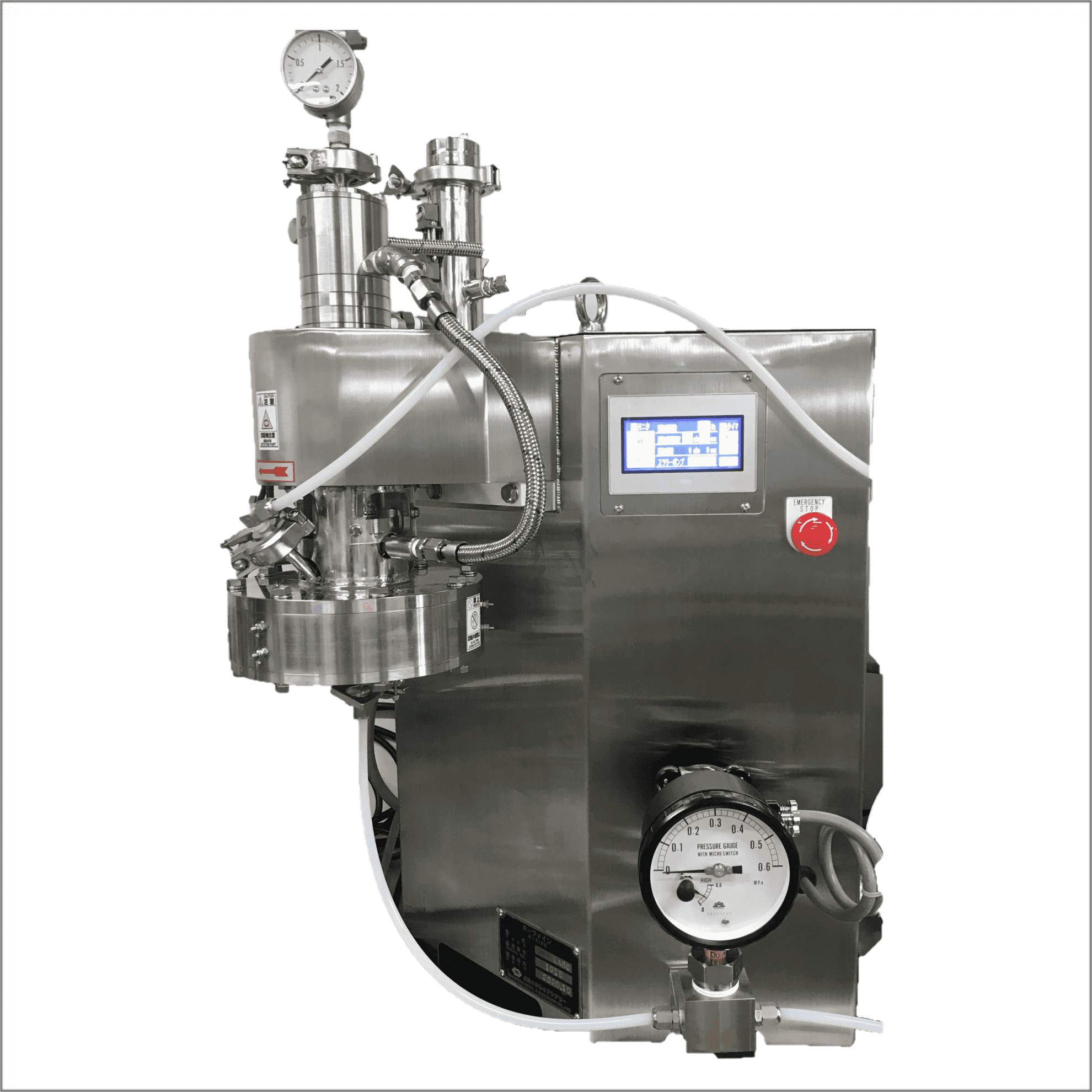 Filtration of nanoparticles can be processed in a short time. A small filter that rotates a ceramic filter with a minimum pore diameter of 7 nm at high speed and has high filtration performance due to the crossflow effect. Thanks to the sealed structure, it can safely process even with organic solvents.
 Applicable particle size:20nm to submicron
 Applications:Rinsing, Solvent replacement, Concentration, Removal of impurities
Overview
 We support from basic experiments with a minimum of 0.5 liters to prototype production of about 10 liters. CRF tester can manage nanoparticles that cannot be captured by a filter cloth, and it can process difficult-to-filter slurries such as high-viscosity and fibrous substances in a short period of time.
 With a compact desktop design that is easy to use, it can be installed even in fume hood, and even dangerous and harmful liquids can be safely processed.
Features
1. 20nm nanoparticle slurry filtration processing is possible with a small to medium amount!

A 7nm ceramic filter with ultrafine pores can capture ultrafine particles of 20nm. It is possible to filter nanoparticles from a minimum of 0.5 liters to about 10 liters. We support various filtration processes such as rinsing, solvent replacement, concentration, and removal of impurities, from basic experiments with expensive and difficult-to-obtain materials to sample trial production.
Filter type

| Pore diameter | 2.0μm | 0.5μm | 0.2μm | 80nm | 30nm | 5nm |
| --- | --- | --- | --- | --- | --- | --- |
| Material | Alumina | Alumina | Alumina | Alumina | Titanium oxide | Titanium oxide |
※The applicable particle size is 3 times or more the size of the pore size.

2. Demonstrate high filtration performance with cross flow effect!

The surface flow velocity can be increased (* 1) compared to general tube-type cross flow, and high filtration performance can be obtained. It is possible to process even high-viscosity and difficult-to-filter slurry, and the processing time can be shortened compared to general filtration.
  ※1:Surface flow velocity
   Tube type  1~4m/s (Pump load is excessive and speeding up is difficult)
   CRF     6~10m/s (high-speed rotation of the agitator is easy)

3. Desktop compact design! Can also be installed in fume hood!

Desktop compact design is easy to use. It can be installed in a fume hood and can safely manage organic solvents and harmful substances. In addition, explosion-proof specifications are also available as an option.

4. It can collect data for selecting large machines!

From the experimental data, information such as capacity estimation and size selection for large machines can be obtained.
Mechanism of Ceramic Rotary Filter

Commentary:The ceramic filter attached to the shaft rotates at high speed in a sealed filtration chamber.
The undiluted slurry is pressurized and supplied from the supply port, and the clear filtrate filtered by the ceramic filters passes through the hollow inside the shaft and is discharged outside.
Applications and processing examples
Processing mode
Rinsing, concentration, solvent replacement, removal of impurities
Applicable particle size
15nm 〜 micron size
Solvent type
Water, organic solvent
Filtration speed
〜 20 L/hr
Processing example

●Impurities (ion content) removal
 Functional material (inorganic nanoparticles)
 Electronic materials (MLCC)
 All solid-state battery
●Concentration
 Fibrous material (CNF, CNT)
 Latex
●Removal of impurities of fine particles
 Coolant liquid for semiconductors
 Beverages (wine, juice)
●Aseptic filtration
 Fragrance
 Pharmaceuticals
Specification
| | |
| --- | --- |
| Model | CRF tester (Laboratory Ceramic Rotary Filter) |
| Mechanism | Rotary high speed cross flow filtration |
| Filter media | Ceramic filter (minimum hole diameter 5nm) |
| Filtration area | 0.03㎡ |
| Rotation speed | 750 〜 1,250 r/min-1 (rotation speed 6 – 12m/s) |
| Size | Length 600㎜ × width 500㎜ × height 1,000㎜ |
| Electric motor | 1.5kw×200V |
| Weight | 100kg |
Line up
Model
Filtration Area(㎡)
Drive Motor(kW)
Approx. Dimensions (m)
Approx. Weight(kg)
Length
Width
Height
CRF tester
0.03
1.5
0.6
0.5
1.0
100
CRF-1
1
3.7 〜 5.5
1.5
0.8
1.2
650
CRF-2
2
3.7 〜 5.5
1.5
0.8
1.5
750
CRF-5
5
7.5 〜 11
1.5
0.8
2.2
1,200